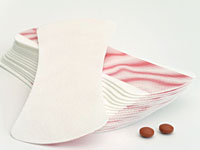 Istockphoto
Katherine Sutherland, an ob-gyn in Mountain View, Calif., knows something about terrible periods—and not just from her patients. She used to soak through tampons every hour, excusing herself to go to the bathroom between appointments. Heavy bleeding made doing what she really loved—hiking—especially difficult. Truth is, she wanted her period to go away altogether.
In 2003 Sutherland, then age 51, got her wish. She had a minor surgical procedure called NovaSure to remove her uterine lining and stop heavy bleeding. And she hasnt had a period since. "I was delighted," she says. "Up until that time Id never missed one period." Sutherland recently hiked 8,000 feet to the ancient Incan city of Machu Picchu in Peru.
Many women, perhaps 95%, have period issues—bleeding like Sutherlands, debilitating pain, out-of-control PMS, or annoyances like constipation or diarrhea. Thanks to a variety of new remedies that can make over (or eliminate!) periods, you dont have to suffer. Weve collected the best fixes for five of your most common problems.