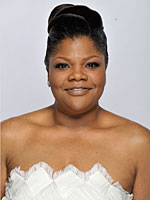 Getty Images
Mo'Nique, star of the film
The Better Man
, wears a size 18. Here's how she takes her confidence into bed.
Go to bed looking like a movie star.
Mo'Nique often arrives home still in her makeup and stylish 'dos from the set and heads to the bedroom for some private time with her husband. Think about dressing up—not dressing down—for bed, and you could get the same effect.
Be free.
Mo'Nique isn't afraid to leave the lights on while making love. And, if her hubby stumbles across a little something extra, she doesn't mind. "If he happens to grab that second roll, baby, let him grab it," she says. "He knows it's there."
Think about assets, not love handles.
"When you decide you want to be happy about yourself, you become sexier," Mo'Nique says.