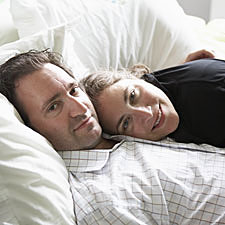 I skated through my 20s without thinking about cancer. At all. Then something happened when I hit my 30s. Cancer came a knockin—with a vengeance. My moms sister was first: She was diagnosed with stage I
breast cancer
in 1996. My mom had her brush with baldness six years later when she was diagnosed with stage II breast cancer. Then, there was a wonderful two-year break before cancer came crashing down on us again. In one year, that same aunt battled bilateral ovarian cancer, my father was diagnosed with brain cancer, and I, pregnant with my son, watched helplessly, wondering if I would be next.
Fortunately, I wasnt. And my plan is to keep it that way. But to meet that goal Ive decided to make a big personal sacrifice—two, actually. Ill soon have radical surgery to remove my ovaries and drastically lower my risk of cancer. Its no easy decision, believe me. Im 39, and no 39-year-old I know would happily choose a lifetime of hot flashes and vaginal dryness from early menopause. But I might not live with my ovaries, so I think Ive reached a place where I can live without them. Heres how I got there.
February 2005—Are these my genes?
When my mom and my aunt developed cancer, no one looked into where these female cancers were coming from. All we had was family lore that when the doctors opened and shut my great-grandmother, the cancer had spread far from her ovaries to the surrounding tissue. So when my social worker cousin (my aunts daughter) insisted that we all consider genetic testing, it was almost too much truth to confront. But I sat through the hour-long family-tree chart with a genetic counselor, had blood drawn, and then heard what no one wants to hear: My mom, my aunt, and I were all
Breast Cancer 1 (BRCA-1) and BRCA-2
positive. We had the genes that raise your risk of ovarian cancer from 2 percent to as high as 45 percent and risk of breast cancer from 13 percent to as high as 80 percent. (In a weird twist of fate, the cousin who pushed us to get tested turned out to be negative. Her sister and my brother have yet to be tested; please keep your fingers crossed.)
I found it ironic that my ovaries had the potential to kill me. While Id known for a few years that my ovaries were hardly superstars—I have
polycystic ovary syndrome (PCOS)
, an endocrine disorder that can lead to very heavy periods, difficulty losing weight, persistent acne, infertility, ovarian cysts, and increased facial hair—they worked when I needed them to. With a little help from my in vitro fertilization (IVF) team, these organs were directly responsible for giving me my son, my greatest production to date.
Now I felt as if Id been hit by a stun gun. I started doing some deep thinking about my legacy and wondering what went wrong. Youre supposed to get great things from your ancestors: perfect pitch, dimples, the ability to tell a great joke and make piecrust from scratch. Youre not supposed to get a high-risk gene. Maybe my 92-year-old grandmother was too overwhelmed to express how she really felt, but she did say—upon hearing the news—that shed never have married my grandfather if she knew his side of the family harbored this insidious genetic strain. Thats how crazy life can get when you feel bad about your genes.