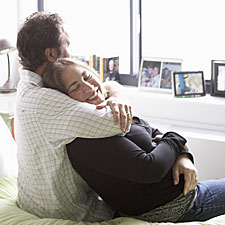 I was 48 hours away from surgery, obsessed with wondering how my life and my body would change, when I was crudely reminded of why having my ovaries removed could be a really good thing. I got my period with the works—bloating, pimples, and cramps. As usual, I subsisted on ibuprofen every three hours. It was strange thinking this would be the last time Id feel this way.
Then the profound moment evaporated, and the inevitable complications popped up. Some tests turned up a little blood in my urine—and the two days til I was eggless in Manhattan turned into six weeks. Fortunately, the follow-ups on my blood were negative, but another life-changing event came along. My beloved dad died of brain cancer, and I needed time to grieve before I rebooked my surgery. Then, finally, the date was set: I was about to give away a huge part of me in hopes of outsmarting the breast cancer
(BRCA) genes
—passed down from mom and her sister—that greatly increase my risks of ovarian and breast cancer. I was sure I was ready.