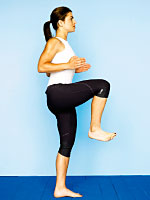 1
|
2
|
3
|
4
Next
'Help! I'm feeling wimpy and need a confidence boost.'
We think the perfect person to help this angst-ridden reader is Jillian Michaels. Not only does she regularly whip softies into shape on NBC's
The Biggest Loser
, she's also author of the new book
Winning by Losing
and a black belt in Akarui-Do (a hybrid of kung fu and Thai boxing). So we asked Jillian—that's her in the photos—to come up with a confidence-inspiring workout. And she has definitely delivered, with moves that will strengthen your muscles and your self-confidence.
For best results
• Keep your focus and intensity high—and increase your confidence—by picturing a worthy opponent
• To add a cardio element, boost your speed once you're comfortable
• Do these exercises twice per week
Trainer tip: For an added challenge, hold a 3-pound dumbbell in each hand for moves 1 and 2.
1
|
2
|
3
|
4
Next