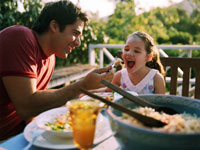 Soccer practices, dance rehearsals, playdates, and other scheduling conflicts make family mealtime seem like a thing of the past. During the holidays, it gets even worse with parties, school events, and last-minute shopping trips. Suddenly, were feeding our kids breakfast bars during the morning commute, sneaking 100-calorie packs at our desks, and grabbing dinner at the drive-thru window.
Eating meals together goes beyond the opportunity for bonding and relaxing. And despite the feeling that theres no time for such luxuries, 59% of families report eating dinner together at least five times a week—an increase from only 47% in 1998, according to the Importance of Family Dinner IV, a report from the National Center on Addiction and Substance Abuse (CASA) at Columbia University.
If you're finding it difficult to get together with your family at the dinner table, heres a little inspiration:
1. Kids might learn to love their veggies.
A 2000 survey found that the 9- to 14-year-olds who ate dinner with their families most frequently ate more fruits and vegetables and less soda and fried foods. Their diets also had higher amounts of many key nutrients, like calcium, iron, and fiber. Family dinners allow for both "discussions of nutrition [and] provision of healthful foods," says Matthew W. Gillman, MD, the surveys lead researcher and the director of the Obesity Prevention Program at the Harvard Medical School.
2. It's the perfect setting for new foods
.
Most likely, a 6-year-old is not one day going to decide shed really like to try Brussels sprouts. Parents have to introduce new foods to children, who initially need a little guidance in making healthy choices. A family meal is the perfect opportunity for parents to expose children to different foods and expand their tastes.
In a 2003 study in the
European Journal of Clinical Nutrition
, children were offered some pieces of sweet red pepper and asked to rate how much they liked it. Then, each day for the next eight school days, they were invited to eat as much of the pepper as they wanted. On the final day, the kids were again asked to rate how much they liked it.
By the end of the experiment, the children rated the pepper more highly and were eating more of it—even more so than another group of children who were offered a reward for eating the pepper. These results suggest that a little more exposure and a little less "You can leave the table once you finish your broccoli!" will teach kids to enjoy new foods, even if they dont like them at first.