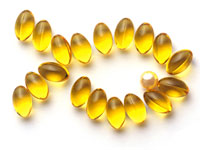 When it comes to heart health, there is one fat that wont work against you—fish oil. While most of us need more fish in our diets, heart experts recommend that people at risk for or with coronary artery disease should consume about one gram of fish oil per day. That's the same amount in three ounces of wild salmon (farmed fish may have less heart-healthy fats than wild).
Healthy people should aim for 500 milligrams a day, according to James OKeefe, MD, a cardiologist with the Mid-America Heart Institute in Bethesda, Md.
Research suggests that omega-3 fatty acids, found in fish and fish oil as well as some plant foods, can decrease the likelihood of cardiovascular disease.
Eating at least one fish meal a week was associated with a 52% reduction of risk for sudden cardiac death, according to a 1998 study of over 20,000 U.S. male physicians. Specifically, it can help prevent arrhythmias, lower triglycerides (a type of fat in the blood), slow down the buildup of plaque in the arteries, and slightly lower blood pressure.
Nutritionists recommend taking a food-based approach to fish oil before turning to capsule supplements, because fish is also a good source of protein and other nutrients.
Joyce Baber, 54, from New Egypt, N.J., is trying to do just that to help lower her high cholesterol, 233 (LDL, 174; HDL, 59) and slightly elevated blood pressure.
"My doctor recommended omega-3," she says. "My LDL should be 130 or less and my HDL should be closer to 100." Patients with high cholesterol patients who consumed EPA, an omega-3 fatty acid, daily showed a 19% decrease in non-fatal coronary events, including heart attack, according to a 2007 Japanese study of over 18,000 people.