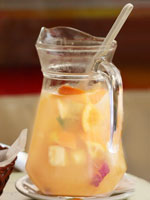 Prep: 5 minutes
Stand: 10 minutes
Makes 6 servings
Ingredients:
1/2 cup tequila, preferably silver or gold (such as Jose Cuervo Especial)
One 1-liter bottle citrus-flavored club soda, chilled
2 limes, quartered
1 small orange, cut into 1-inch chunks
1/2 small grapefruit, cut into 1-inch chunks
1 cup ice
Directions:
1. Pour the tequila and club soda into a pitcher. Add the limes, oranges, and grapefruit; let stand for 10 minutes.
2. Add enough ice to the pitcher so that the punch rises to the top. Serve in chilled glasses with some fruit in each glass. (Serving size: 1 1/3 cup)
Nutrition:
Calories 59 (1% from fat); Fat 0g (sat 0g, mono 0g, poly 0g); Cholesterol 0mg; Protein 0g; Carbohydrate 4g; Sugars 3g; Fiber 1g; Iron 0mg; Sodium 36mg; Calcium 19mg
Last Updated: July 10, 2008
Get the latest health, fitness, anti-aging, and nutrition news, plus special offers, insights and updates from Health.com!