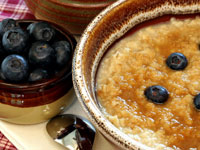 Celebrity trainer Gunnar Peterson (whose clients include
Jennifer Lopez
,
Leah Remini
, and
Penelope Cruz
) recommends popping something into your mouth within 30 minutes of waking. "You want to send your body a sign that youre not starving so it starts burning fat," Peterson says. His suggestion: a cup of oatmeal with some sliced fruit and several scrambled egg whites. The oatmeal and fruit pack a huge punch of filling
fiber
, and the egg whites are rich in protein, which is satiating.
Verdict: Try it.
Research shows breakfast eaters are more successful at long-term weight loss than those who skip this meal. "It jump-starts your metabolism and prevents you from getting so ravenous you overeat later in the day," says Bonnie Taub-Dix, RD, New York City–based a spokeswoman for the American Dietetic Association.