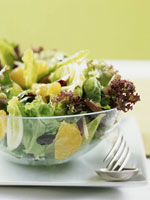 A heavy hand with the salad dressing ladle or one too many trips to the crouton bowl can turn a healthy salad into a diet disaster. You already know that the trick to a light salad is loading up on fresh, vitamin-rich veggies and lean protein while limiting cheeses, nuts, and full-fat dressing. But let's be honest: That can get boring.
Swap your ho-hum grilled-chicken salad for something more tempting. Garnish your greens with these healthy (and often ignored) toppings.
Fennel

This often overlooked veggie (sometimes referred to in supermarkets as anise) is related to dill, coriander, and parsley. It adds vitamin C, fiber, and folate to your salad, plus a cool, subtle licorice flavor. It also blends well with citrus fruits and tomatoes. Try these recipes:
Salsa

Add an extra serving of fruits or veggies—and tons of flavor—by spooning up to a half cup of savory tomato salsa over a bed of mixed greens. With around 200 mg per serving, it's lower in sodium than other dressings, and most jarred varieties don't contain added fat. Try these recipes:
Whole grains

Whole-wheat couscous, barley, or quinoa are high-fiber toppings that also add some protein to your salad. Toss them over greens with a sprinkle of lemon or lime juice; it's a great way to use up that leftover side dish from last night's dinner. Try these recipes:
Artichokes

These low-cal and low-carb veggies make a filling addition to salads—and they placed fourth in a
2006 study
ranking the top 50 antioxidant-rich foods. Just be wary of jarred artichokes, which are often marinated in oil. Try these recipes:
Last Updated: June 10, 2009
Get the latest health, fitness, anti-aging, and nutrition news, plus special offers, insights and updates from Health.com!