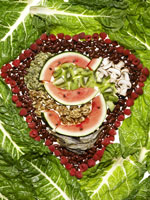 James Worrell
Chances are youre already filling your plate with healthy foods like blueberries and broccoli (both full of disease-fighting antioxidants). Well done. But as good as those standbys are for you (and they are good), new research reveals some overlooked nutritional superheroes that deserve a starring role at your next meal.
If you love: OrangesNow try: Kiwifruit
This petite fruit contains about 70 milligrams of vitamin C—more than an orange and just 5 milligrams short of the daily recommendation for women. Research links C to improved eyesight, lower cancer risks, and better heart health. All that and a younger-looking outside, too: A high intake of C makes wrinkles less noticeable, according to Melina Jampolis, MD, a San Francisco–based physician who specializes in nutrition and is the author of
The Busy Persons Guide to Permanent Weight Loss
.
Bonus:
Kiwifruit has 20% more potassium than bananas and is one of the few fruits (and veggies) that contain vitamin E.
How to enjoy:
Peel and slice some kiwi­fruit, and mix it with bananas for a potassium-rich fruit salad; kiwifruits tartness complements the bananas mellow flavor. Or simply slice a kiwifruit in half and grab a spoon—the fruit creates its own bowl.
If you love: BroccoliNow try: Mushrooms
Broccoli is a super source of antioxidants, but a girl can only eat so much of the cruciferous stuff (gas alert!). Next up: shrooms. "Research shows that mushrooms have tons of phytochemicals, natural compounds that may help prevent cancer. Everybody should be eating more of them," says Christine Gerbstadt, MD, RD, one of only a handful of physicians who are also registered dieticians.
Pick whichever variety suits your taste buds; all of them pack a healthy punch. But researchers from Pennsylvania State University found that two of the most commonly purchased mushrooms—crimini (the small, brown ones) and portobello—ranked as high in antioxidants as string beans, red bell peppers, and carrots. And the humble white button shroom? "People think that theyre just fluff, but thats not true," Dr. Gerbstadt says.
Bonus:
Eating mushrooms may be associated with reduced inflammation and a stronger immune response, according to findings from animal studies by researchers at Arizona State University and Penn State University.
How to enjoy:
Saute a big portobello in heart-healthy olive oil, and sub for meat in burgers or enchiladas. Or slice raw button mushrooms, and toss them with chopped parsley, lemon juice, and olive oil for a simple side dish.