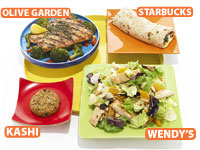 James Worrell
No time to cook or buy groceries? No worries: Our plan is as grab-and-go as it gets.
Chances are your summer days are more crazy than lazy, with zero time to create portion-controlled meals and tally up calories. But just because you're in fast-food mode doesn't mean you have to kiss your get-slim plans good-bye.
We've created a 1,350-calorie-a-day mix-and-match weight-loss plan using healthy choices you can pick up at the drive-through (and a few you can zap at home). Choose one item from each list each day, and enjoy it with water, seltzer, or another superlight drink like black coffee—you won't have to count a single calorie. Add a fun, quick workout from our "Get Fit Faster!" activities five days a week, and this could be the least stressful 10 pounds you've ever lost.
Breakfast
(About 300 calories)
Starbucks Spinach, Roasted Tomato, Feta, and Egg Wrap
Calories 270; Fat 11g (sat 4g); Protein 14g; Sugars 3g; Fiber 8g
Dunkin' Donuts: Half a multigrain bagel with plain reduced-fat cream cheese
Calories 300; Fat 13g (sat 6g); Protein 13g; Sugars 3g; Fiber 5g
McDonald's Egg McMuffin
Calories 300; Fat 12g (sat 5g); Protein 18g; Sugars 3g; Fiber 2g
Panera Bread Pumpkin Muffin; kid-size organic yogurt
Calories 320; Fat 11g (sat 3g); Protein 5g; Sugars 33g; Fiber 1g
Jamba Juice Blueberry and Blackberry Oatmeal
Calories 290; Fat 4g (sat 1g); Protein 8g; Sugars 25g; Fiber 6g
Lunch
(About 400 calories)
Arby's Ham and Swiss Melt Sandwich; applesauce
Calories 358; Fat 7g (sat 4g); Protein 16g; Sugars 25g; Fiber 3g
Burger King Veggie Burger (hold the mayonnaise!); Fresh Apple Fries with Caramel Sauce
Calories 410; Fat 9g (sat 1g); Protein 23g; Sugars 18g; Fiber 8g
Subway 6-inch Oven Roasted Chicken Breast Sub; 1 bowl minestrone
Calories 410; Fat 6g (sat 2g); Protein 27g; Sugars 11g; Fiber 8g
Wendy's Mandarin Chicken Salad (roasted almonds, half a packet of Oriental Sesame Dressing, hold the Crispy Noodles)
Calories 395; Fat 18g (sat 2g); Protein 30g; Sugars 22g; Fiber 4g
Taco Bell Chicken Burrito Supreme
Calories 320; Fat 12g (sat 5g); Protein 20g; Sugars 5g; Fiber 6g