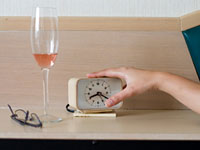 Tis the season to overdo it—from eating to talking to whooping it up. So how do you survive the morning after? Try our sneaky little tricks.
There's more than one way to overindulge during the holiday season. You can carol until you get a sore throat, or scarf too many cookies at the office party. You can stress over the perfect prime rib, or try to work off 5 pounds in a day so you can fit into that slinky cocktail dress that night. Sometimes you go too far—and then comes the morning after. But don't despair: We've come up with easy cures for almost every imaginable holiday hangover. Before you know it, you'll feel ready to deck the halls all over again.
You ate the whole thing
Potato pancakes, penne quattro formaggio, double-fudge macaroons. It was your neighbor's holiday shindig, and you didn't want to insult her by not trying everything—at least once. Now you feel bloated, nauseated, and disgusting. "It's the ultimate yuck feeling," says Cindy Yoshida, MD, a gastroenterologist in Charlottesville, Virginia, and author of No More Digestive Problems. "Higher-fat foods empty a lot more slowly from the stomach," she says, which means part of last night's meal might still be with you the next day.
Our get-better-fast plan
Give Your Tummy a Break. Don't eat until you're hungry. "And then have smaller meals that are relatively low in calories and fat and high in fiber for the rest of the day," Yoshida says. That will stimulate your gastrointestinal tract and get things moving.
Rehydrate Early and Often. Not only will fluids help re-balance your body's salt-to-water ratio, which fights bloating, but "they also empty from the stomach better than solids do," Yoshida explains.
Mellow out With Mint. A peppermint lozenge or peppermint tea can increase gastric emptying, which will relieve pain, Yoshida says. (If you have heartburn, skip peppermint, which can aggravate it. Try an antacid like Pepcid Complete instead.)