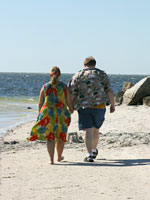 Roughly two-thirds of adults in the United States are overweight or obese, but there's a glimmer of hope on this grim horizon. After rising for nearly a quarter-century, the obesity rate for American adults ages 20 and older has leveled off at 34%, according to the latest report by the Centers for Disease Control and Prevention's (CDC) National Center for Health Statistics (NCHS).
That may be good news for some, but not all weight issues are created equal. Some groups still have a better chance of packing on the pounds than others. (The CDC considers adults overweight if their body mass index, or BMI, is between 25–29.9, and obese if it's above 30.) Here are some factors that influence weight.
Gender
Men and women have obvious biological differences, but they're not a factor when it comes to weight. Historically, women have been fatter than men, but that gap is narrowing. According to a November 2007 NCHS report, 33.3% of men and 35.3% of women were obese in 2005–2006.
"Men have been catching up to women," says Cynthia Ogden, a CDC epidemiologist and the lead author of the study. "There arent significant differences anymore."