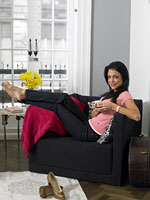 Miki Dusterhuf
This information is taken from Bethenny's book, Naturally Thin, available now at Amazon or Barnes & Noble.
From
Health magazine
"I look fat. I hate my body."
"She can eat anything she wants. I hate her."
"Im not going to that party. Ill just eat way too much."
"I would be happy if I could just get skinny."
Sound familiar?
These aren't the words or thoughts of a naturally thin person, but they might be the things you say or think to yourself. I used to talk to myself like this, but I dont do it anymore. You can stop, too. You can break free from the oppression of food obsession and become "naturally thin."
What do I mean by that? Its not some state of being beyond your grasp. You are naturally thin. You just have to make
a few simple changes
to let your natural thinness emerge.
By trade, Im a natural-foods chef. And a lot of what I know about food comes from my passion for both food and health.
Im naturally thin, too, but I didnt come preprogrammed that way. Dieting was always in the forefront of my mind. I cant believe how much of my life I wasted feeling fat, obsessing about what to order on a date, or figuring out how to pass up an invitation to a restaurant I perceived as serving fattening food. Back when I was ingrained in the
diet mentality
, I never really thought I could escape. But I did.
Today, I no longer diet. I eat pretty much whatever I want to eat. And Im ready to help you transform your entire relationship with food. Here, Ive condensed everything Ive learned about eating and cooking into simple rules you can use, too.