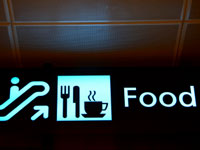 Stuck at the airport with an unexpected delay or long layover? Sounds like a dieter's worst nightmare. But don't despair if you didn't plan ahead with a purse full of figure-friendly snacks.
When you're tired and stressed from a day of travel, you don't have the energy to decode all of the food choices available. If you're lucky, you'll wind up in an airport with
loads of healthy eating options
. If you find yourself surrounded by fattier fare, just follow my guide for figure-friendly on-the-go options.