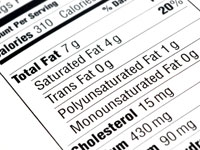 Feel-great eating isn't about starving yourself; it's about having plenty of delicious, healthy foods that help you burn fat and leave you feeling satisfied. But dealing with the details—like counting grams of fiber, measuring portion sizes, and weighing the differences between good and bad fats—can be confusing, even when you have a
daily meal plan
to follow.
Here's a crash course from diet expert Alyse Levine, RD, that can help you stay on track.
1. Eat at least three starch "freebies" a day
Studies show that foods rich in a carbohydrate called resistant starch pass through your body without really counting calorically because they "resist" immediate digestion (in other words, passing through you)—while still filling you up. Plus they help you burn fat fast, improve digestion, and fight disease.
One serving of resistant starch equals:


½ cup beans (esp navy or black)


½ cup lentils


½ cup whole grains


½ cup barley


½ cup brown rice (cooled)


½ cup corn


½ cup split peas


½ cup whole wheat pasta (cooled)


½ cup oatmeal


4 oz boiled, chilled potato


1 sushi roll


1 slice whole wheat bread


1 barely ripe banana (as bananas get riper, the starch converts to sugar, which isnt calorie-free).