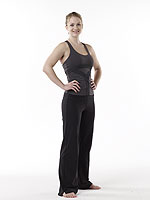 Tom Rafalovich
Nothing truly worth achieving in life comes easy, right? Even with a solid plan like
AJ Cook
, who freely admits to longing for the sweet treat.
Just follow this expert weight-loss advice, and you (and AJ) will be able to catapult over any food yen.
We started doing night shoots this month, and it became nearly impossible to find time for structured meals between takes. So, when I got tired, it was difficult to stay away from all the baked goods—the exact things I crave when I want to feel better—that were available on the set. To control my cravings, I really had to make an effort to have healthy options like almonds, apples, and hummus with carrots on hand at all times."
You're always hungryThe solution:
Reassess things. "If you're eating enough calories, you may be labeling yourself as hungry when you're actually just experiencing a desire to eat," dream team psych expert Judith Beck, PhD, says. "When you're truly hungry, your stomach feels empty." Otherwise, something else—like boredom or thirst—may be spurring your desire to nosh.
One trick to try:
Have a large glass of water or seltzer with lemon and wait 10 minutes. Not only will the drink give you the sensation of being fuller, but it'll take care of the problem if you've been mistaking thirst for hunger. If that doesn't work, try engaging your mind elsewhere. Call a friend, take a walk, polish your nails, or surf the Web.