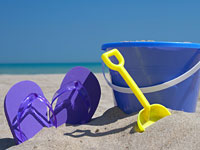 Summer vacation is all about taking a break from the norm. Trouble is—whether you're relaxing on the beach, catching up with relatives, or exploring new places—dropping your workout can quickly become the routine.
It doesn't have to be that way. We've got 16 fresh strategies to help you keep moving when you're on the go, no matter where you're headed.
Destination: Parents' or in-laws'
1. Spend quality time with the folks while taking a walk through the neighborhood.
2. Take advantage of the track or trails at the local high school.
3. Plan a morning stroll to an area coffee shop or farmers' market. (To find a market near you, visit
this USDA Web site
.)
4. Pitch in—and earn some brownie points—around the house by doing aerobic chores like gardening, mowing, and window-washing.