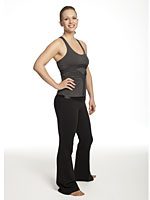 Tom Rafalovich
Expert strategies for fitting in fitness—and keeping the weight loss coming.
One tough thing about a major body makeover is finding the
motivation
and time to work out. AJ Cook is no exception. "With adjusting to being a new mom, working on TV, and sitting for hours in L.A. traffic, my schedule is tight," she says.
So we turned to Feel Great Weight Dream Team fitness expert Keli Roberts for real-world strategies on fitting fitness into even the nuttiest of schedules.
Finding time for my workouts has been one of my biggest challenges. Whats helped is having accountability to my
trainer
—if I cancel, I know Ill be letting him down, too. I also picked a gym near my home, so I can get there quickly.
Plus, I try to squeeze in
little workouts
whenever and wherever I can, whether its doing some toning in my trailer during a break on set or pushing Mekhai in his stroller on my day off."