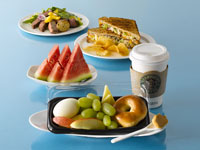 Melissa Punch
Breakfast: Whos got time? And if you have a crazy schedule, lunch is a light grab, while dinners your one big helping of comfort. But recent research may convince you to flip all that around: Front-loading your days calories so that you eat more food—especially more lean protein—earlier in the day will help you drop pounds and feel full all day long, according to a Purdue University study.
Our plan makes it easy to eat this way. Pick one of our options for breakfast, lunch, dinner, and snack each day—its designed so you eat most of your calories by noon.
You wont get hungry, and, best of all, when you stick to it for four weeks, youll drop 10 pounds.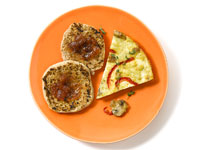 Melissa Punch
Power breakfasts
About 500 calories each (pick one each day)
English muffin with jam and half of Make-ahead Turkey Sausage and Mushroom Frittata
(shown at right): Whisk 2 eggs and 4 egg whites with 1 tablespoon low-fat milk and salt and pepper to taste; set aside. In a 6-inch pan, saute 2 teaspoons olive oil, 4 ounces turkey sausage, 1⁄2 cup sliced mushrooms, and 1⁄3 cup red peppers until cooked through. Pour eggs over mixture; swirl pan to distribute eggs evenly. Once eggs are set, slide frittata out of skillet; serve. Wrap leftovers and store in refrigerator. Reheat in microwave for 1 minute. (Makes 2 servings.) Enjoy up to 1⁄2 frittata with 1 whole-wheat English muffin and 2 teaspoons all-natural fruit preserves (like Polaner All Fruit 100% All Natural Fruit Spread). 470 calories
Starbucks Protein Plate with Peanut Butter:
Enjoy it with a Tall Skinny Caffe Latte. 470 calories
Orange juice with Smoked Salmon Roll-Up:
Spread 2 tablespoons reduced-fat cream cheese on a multigrain wrap (such as Ezekiel Food for Life). Add 4 ounces smoked salmon and some diced tomato. Enjoy with 8 ounces orange juice. 520 calories
Dunkin Donuts Egg White Veggie Flatbread Sandwich:
Have it with a banana and 8 ounces skim milk. 480 calories
Amys Organic Steel-Cut Oats Hot Cereal Bowl:
Top it with 1⁄3 cup chopped almonds, 2 tablespoons raisins, and a sprinkle of cinnamon. 490 calories