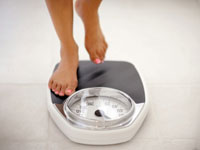 Why 47 is an important number
Thats the percentage of carbs that should be in your diet if you really want to stick to your plan and reach your ideal body weight, says a new Canadian study.
Why? Diets that are low in carbs (but high in protein) are hard to maintain. And good carbohydrates (fruit, whole grains) deliver lots of appetite-busting fiber and less saturated fat, which is better for your heart.
250 calories gone!
Youll eat that many fewer calories if you dine with a man instead of chowing down with a group of your female friends, a new study says. Women eating together ate almost 800 calories each; a woman eating with a man had about 550.
Tweet off the pounds
Microblogging can power up your weight loss.
TweetYourEats.com
categorizes the foods you eat and tracks and tallies your calories. Create an online food diary at
TweetWhatYouEat.com
, then send direct messages to @TWYE to log calories. Get group weight-loss support at
Tweetworks.com
.
The sweet smell of dieting success
You eat when youre bored? Next time, sniff coffee beans instead—a sneaky way to slow down your urge to snack, from psychologist and mindfulness expert Susan Albers, PsyD, author of the new
50 Ways to Soothe Yourself Without Food
(New Harbinger Publications; $16.95).