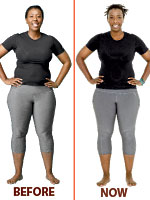 Heather Weston/Sonja Pacho
No matter how determined you are to lose weight, youre going to hit some bumps along the road to your dream body—as our three Health readers on the
Feel Great Weight plan
are finding out. We can help: Read on for motivating advice from our
Dream Team
so you can keep the scale heading south.
Fatou Kine Dieye
: 33, Architect and director of graduate-student affairs at Columbia University
Height:
5' 10 1/2"
Goal weight:
165 lbs
Her challenge:
"I keep eating the same meals—Im in a food rut!"
The fix:
"Clinging to 'safe foods out of fear is very common," Dream Team diet expert Marissa Lippert, RD, says. "You think, 'If its working, why change it? But variety is key," she says, pointing out that the more psyched you are about the healthy foods in your pantry, the more likely you are to keep eating them—and losing weight.
"Change things up by adding at least one new thing to your grocery cart every time," Lippert says. Try different kinds of in-season produce, which naturally changes throughout the year. (Bonus: Thats when they taste the best and pack the most nutrients.) Another way to excite a bored palate: Reach for
fresh and dried herbs and spices
.
"Theyre a phenomenal way to change flavors without adding extra calories," Lippert reveals. "If you always make a marinated chicken dish, see what happens if you use Asian spices or a Jamaican jerk seasoning instead."
What worked for Feel Great Weight alumnus Vanessa Trost? "Making a list of foods I already liked to eat, then figuring out what could be rotated in for them as an alternative." Love brown rice? You may be crazy for quinoa, too. Vive la difference!
| | Starting | Current | Loss to Date |
| --- | --- | --- | --- |
| Weight: | 233 | 212.5 | 10.5 |
| Waist: | 35" | 33.5" | 1.5" |
| Hip: | 49" | 47.5" | 1.5" |
| Body Fat: | 36% | 34% | 2% |