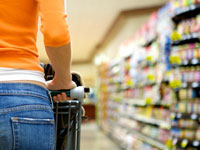 Istockphoto
Consumers are trying to eat healthier, and the food industry knows it. Words like
natural
,
organic
, and
fortified
are popping up on everything from potato chips to pie, often masking a not-so-stellar nutritional label. So Health.com spent months scouring grocery shelves to find some products that may fool even the savviest of health-conscious shoppers. These products probably wont do major diet damage—but nutritionally, they may not be all they claim to be, either. See our top 10 overrated health foods of 2009.
SoBe Lifewater
The company that turned heads with its lizard "Thriller" commercial in 2008 launched a no-calorie version of SoBe Lifewater, sweetened with PureVia, late last year. PureVia is touted as a natural sweetener that contains 97% Reb A, an extract from the sweetest part of the stevia plant.
The U.S. Food and Drug Administration (FDA) approved Reb A, and brands such as Sprite and Tropicana have added Reb A beverages to their lines, but not everyone is convinced of its healthfulness. "Leaf extract sounds much better than chlorinating sugar or methylating a couple of amino acids," Marion Nestle, PhD, a nutrition professor at New York University, told
USA Today in December 2008
. Although the term
leaf extract
gives off a "healthier aura"—like tea—she added, "whether it is, remains to be seen." Katherine Zeratsky, RD, a specialty editor for the Food & Nutrition Center at the Mayo Clinic, suggests a healthier, cheaper option: "Take a pitcher of water and add lime rinds to it, or even slices of whole fruit."
Yoplait Yo-Plus Blueberry Açai
This product boasts two hot health buzzwords—
probiotics
and
açai
. Probiotics are live cultures (good bacteria) that restore the balance of bacteria in the stomach and intestine. However, there are many different strains of probiotics, and researchers are still determining exactly how each one interacts with the body. Research shows that certain strains, such as Lactobacillus GG, can reduce diarrhea. And though research suggests that probiotics may strengthen your immune functioning, most scientists agree additional research is needed.
Most yogurt has at least a small amount of good bacteria in it, which may promote gut health. Though people with digestive problems may want to seek out foods with additional probiotic claims, says Zeratsky, "For a lot of people, regular yogurt is just fine."
The controversy over probiotic claims has even extended into the courts: Dannon settled a class-action lawsuit in September and agreed to change the labels on its Activia and DanActive yogurts from "a positive effect on your digestive tracts immune system" to "interact with your digestive tracts immune system." (The company stands by its product claims, however.)