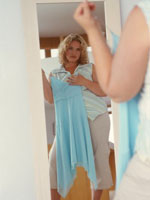 Getty Images
Deb Lemire has always been "short and square," a figure she inherited from her grandmother and passed on to her child. So when Lemire took her daughter in for a wellness visit and the well-meaning pediatrician pulled her aside to talk about her daughters weight, the 47-year-old burst into tears "because I was the 10-year-old being told I was overweight."
She took her daughter to a nutritionist, who said her dietary habits were good. So Lemire decided not to push the issue. "I have spent my whole entire life dieting and feeling like my worth was attached to my weight," says Lemire. "I wasnt going to tell her she has to change who she is. But were going to encourage healthy behaviors [and] not worry about translating that into a size thats 'OK. That message is not going to come from me—shell get that enough from other people."
Lemire also happens to be president of the
Association for Size Diversity and Health
, a group that advocates that people can be healthy at any size. Her group is just one of several in a growing trend sometimes called the fat acceptance movement.
From the Dove Campaign for Real Beauty, which portrays underwear-clad women who tend to be larger than the average model, to the
National Association to Advance Fat Acceptance
, which fights size discrimination, many organizations and businesses are championing a new definition of beauty—one that is not dictated by waist size.
Although
most people agree
that promoting super-skinny models as the feminine (or masculine) ideal isnt healthy, will the opposite—accepting that being overweight or obese is fine—undermine the progress being made toward heart health?
In fact, experts have recently found that the decades-long efforts to limit one serious heart risk—smoking—is expected to pay off with longer life spans. Unfortunately, the rise in obesity will likely undercut that progress.