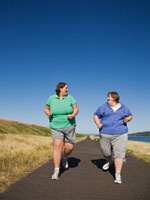 Five years ago, Juli Ackerman never thought shed be able to buy an off-the-rack wedding dress. At 5 feet 10 inches, the software-company executive from Newport, Calif., then 40, was 280 pounds. Her weight had always fluctuated, but she decided that she wanted to slim down once and for all.
She stumbled upon the website of Hilton Head Health, a self-billed "weight loss spa retreat center" in South Carolina, and signed up. "I went there not knowing much about what I was in for," she says. "I didnt want to get pampered; I wanted to get healthy."
Weight-loss retreats, spas, and resorts for adults—the grown-up version of fat camps—have been around for decades. But now, fueled by growing awareness of the health risks of obesity and the popularity of weight-loss shows such as
The Biggest Loser
, they seem to be on the rise. But do they work?
Yes, according to Ackerman. After two weeks of swimming and
fitness
classes, she lost 11 pounds. "It was a great jump start for me," says Ackerman, who returned to Hilton Head Health twice and went on to lose more than 100 pounds. Last year, she was married on the beach; she weighed 165 pounds and was a trim and confident size 12.
But as they say in Jenny Craig ads, "Results not typical." Experts caution that these retreats arent for everyone and dont always work. The weight loss may not last, and it may not be worth the cost, which can be as high as several thousand dollars a week.
Nicole McLaren, a 26-year-old student from Washington, D.C., signed up for a monthlong stay at Hilton Head, hoping to shed 30 pounds. She lasted just two weeks before throwing in the towel in July 2007.
"I had this whole concept in my head of
The Biggest Loser
," she says, referring to the intense (and compulsory) training the contestants get. That wasnt what she found when she arrived. "Everything was optional, so a lot of people just sat around and talked about losing weight," she says. "The only thing you had to stick to was [that] they portioned your food to about 1,200 calories a day."
The structured environment, exercise classes, and prepared meals had sounded promising, but the $2,400-a-week price tag seemed too high when she found meals were limited to one option, she had to share a room with strangers, and the exercise classes were geared toward the resorts older clients. "I think I lost eight pounds, but thats only because they starve you," McLaren says. "When I left, all I wanted to do was eat!"
"Weight-loss camps are not an easy or quick fix," says Jennifer Hester, a sports exercise and education researcher at Leeds Metropolitan University, in the U.K. "The short-term investment of time and money does not automatically equate to healthy weight management in the long term."