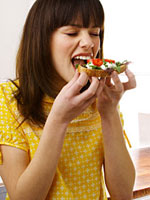 Need to know what to order at a restaurant or fast-food joint on The CarbLovers Diet? Its here. Youll even find the right foods
in the right portion sizes
, so you dont have to do the math yourself.
The following choices all contain at least one ingredient high in
Resistant Starch
as well as several other metabolism boosters. You can mix and match them, too. Pair any option that totals fewer than 300 calories with a piece of fruit.
Buy The CarbLovers Diet now
!
Breakfast
| Food | Calories | Serving size |
| --- | --- | --- |
| Au Bon Pain Apple Cinnamon Oatmeal | 280 | 12 oz. |
| Così Oatmeal | 101 | 7.5 oz. |
| Dunkin' Donuts Ham, Egg White, and Cheese on Wheat English Muffin | 300 | 1 sandwich |
| Einstein Bros. Sante Fe | 360 | 1/2 portion |
| Einstein Bros. Spicy Elmo | 360 | 1/2 portion |
| Jamba Juice Blueberry & Blackberry Oatmeal | 290 | 8.9 oz. |
| Jamba Juice Coldbuster | 240 | 16 fl oz. |
| Jamba Juice Fresh Banana Oatmeal | 280 | 9.6 oz. |
| Jamba Juice Protein Berry Workout With Soy Protein | 270 | 16 fl oz. |
| Orange Julius Bananarilla | 400 | 20 oz. |
| Orange Julius Berry Banana Squeeze | 270 | 16 fl oz. |
| Panera Strawberry Granola Parfait | 280 | 8.25 oz. |
| Starbucks Apple Bran Muffin | 350 | 1 muffin |
| Subway Egg & Cheese on 9-Grain Bread With Egg White | 320 | 6-inch sandwich |
| Subway Ham, Egg, and Cheese on 9-Grain Bread With Egg White | 350 | 6-inch sandwich |